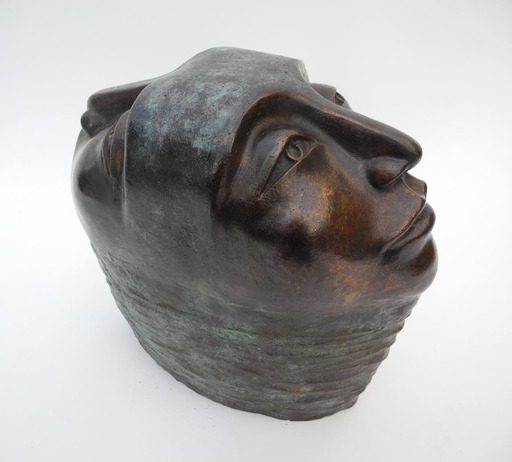 The way the river makes the landscape move, art puts man in motion.
In 2001 I finished my studies at the Academy of Arts in The Hague. As well as drawing and painting I make bronze sculptures. With making my works I listen to my inner guide, my intuition and give expression to my feelings and imagination. The sculptures do have a primitive look with often a symbolic or mythical meaning. I am looking for the soul in the work and if it starts to communicate with me I can feel the work is doing what it should do. For me it seems that my artworks can be a gateway to another world - a world of the subconsciousness.
Shapes and characters of animals are combined with human features and characteristics. This represents for me the connection between nature and human beings. I'm very interested in the culture of the indigenous people and the shamanistic world. These cultures are living in harmony with the earth, following the rhythm of nature. One can find spirit in their rituals, customs and objects. I love and respect their wisdom.
I feel it is my 'task' to listen my talent to bring the light, wisdom and love of the other world to our world. I transform my ideas into different materials and show them to people, hoping they will find a spark of joy and happiness in it.
I believe in the power of the intuition and the heart
Lieuwke Loth
At this moment sculptures and drawings are being shown in the gallery 'Luz de la Vida' in Competa, Spain. For more information: www.luzdelavida.es
Education:
Academy of Arts, The Hague 1996-2001
Learned Bronze casting in 2003